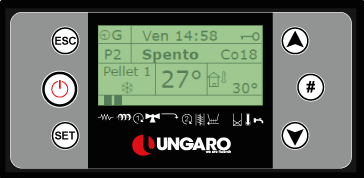 Co01
Co02
Co03
Co04
Co05
Co07/Co08
Co09
Co10
Co11
Co12
Co14
Co15
Flow
Co25
Co26
Co41
Co42
Co59
Co01

Overheated water / Overheated pellet tank / Safety thermostat faulty


Check:
Verify proper water flow in the system, check the circulation pump and the water pressure;
Let the appliance cool and check the pellet tank.
How to reset:
The thermal security thermostats can be found below the power cable. Unscrew the black caps that covers the white buttons, press the buttons until hearing a click. At this point the thermostats are reset.
Press and hold for 3 seconds the button ON to reset the alarm. Wait for 10 minutes, empty the burner from any unburnt pellet (if it's not self-cleaning) and turn the heater on. If the error persists, contact local Customer Support.
Co02
Co03
Co04
Co05
Co07/Co08
Co09
Co10
Co11
Co12
Co14
Co15
Flow
Co25
Co26
Co41
Co42
Co59